Safety Driving Tips this Christmas Season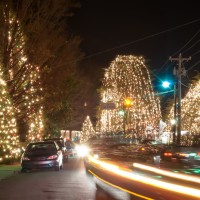 Have you smelled the scent of Christmas and New Year? Well, it is because we are all counting days to embrace the holiday season, a day were we usually spend time with family and friends wherein usually involves parties with lots of foods and drinks. Another aspect of the holiday season is the additional amount of travel that often comes from various parties, reunion, different events and from people who are on the rush shopping for Christmas presents. So, while all people are excited for this event, we assemble some safety driving tips that make festive season more enjoyable.
   You might have monthly car maintenance schedule on the list but be more cautious on this holiday season most likely if you are planning a Christmas vacation or a long trip. Make sure that your car is operating properly, check the oil, tires, belts, brake fluids, lights and many other.

   "Don't drink and drive" is a common warning to the motorist for the festive period. If you plan to have a drink at Christmas event, stay for the night or plan for alternative options such as asking someone to drive you home or have a cab number on your pocket as best alternatives.

   Wearing seatbelts are important safety measures that can help to save lives. Do not put yourself at a greater risk, always buckle up to avoid spending thousands of dollars on medical bills before the year-end.

   Pay attention to the road and obey every rule especially speed limit.  High traffic volumes are expected during Christmas season thus, slow down and steer gently to avoid dangerous and irrational overtaking.

   If an event appears to be held far from your destination, plan your travel ahead. Check some traffic report, activate your GPS system and check for the weather's condition before you leave in your house.

   Texting while driving has become the number one driving distractions for so many people and because individuals are seemed preoccupied for the holiday rush, drivers need to be aware of the danger and should keep their attention "only" on the road.

Follow the rule of thumb, leave at least "three seconds" between you and the car ahead. The right distance will give you the chance to respond to problems or in case of an emergency.

   Driving this holiday season can be stressful, if you feel exhausted try to pull over and relax. Fatigued can lead to a poor decision and risky behavior behind the wheel, always keep cool to enjoy the day.

   Always bring along an emergency kit in your trunk. Nobody wants to be injured in this festive season and bringing some tools such as first aid kit, jumper cables, charged cellphones, flashlight, duct tape (and many others) is an advantage.
If you found some car issues this Christmas season, do not hesitate to call us at 718-297-9797. We value your query not only during holidays but every day of the year. Merry Christmas and have a wonderful new year.