You Made the Right Choice for your Salvage Yard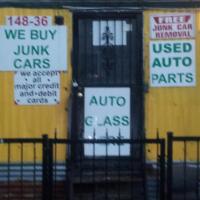 At New York City auto salvage and glass, we assure you will have no regrets for choosing us. You may still wonder why we are so confident on saying this and here we'll tell you how.
We have the experience. For operating so many years since we've started, we have acquired knowledge form people like you and known from you, what you need and what you want whether you want to junk your car or you are repairing. We can supply your demand. We pay straight away with cash and what we quote is what you will get. You will get the right price if you decided to junk your car with us. We pay hard cold cash, there is nothing much better than cash on hand so you can use it straight away. We know you want to make money so we make the transaction easy for you.
Once we quote and the deal is right, we get the car, you get the money. You can have a quote online or on site, through online just visit our website, fill up the details and we can go to you and have quote. You can also bring your junkie on site so our friendly workers can have a look at your car. We tow for free, you can park your car in front of your house and we will tow it for you and hand in your money free of charge. We care for you and the environment. Our main purpose of having the salvage yard is to recycle and reuse cheap auto parts for sale for everyone. We are legit, by meaning it is legal and we want to protect you from scams. Our process is easy at the same time protect the right of consumers like you. We value the people we are servicing. At New York City Auto Salvage and Glass, we value the quality of the parts we sell, we always make sure it has all the standards for your ease and guarantee you it will last.
So if you think we are still not the right salvage yard for you why don't you visit us at Queens, or give us a call at (718) 297-9797, we will look after you!